Who Can Use the N-Word?: 2009
We are in agreement with one another about most things. We like a lot of the same music, we generally enjoy the same movies, we like the same food (okay, that's a bad example because we both like pretty much ALL food), and we certainly share a lot of the same views when it comes to social justice and issues related to race.
But there are a couple of places where we part ways. For instance, Charlton favors the Big 12 conference (OU) and Stephen is a Big 10 guy (Purdue). When it comes to
Tastykakes
, Stephen prefers Butterscotch Krimpets while Charlton reaches for the Chocolate Juniors (if you want to read something racial into that, go right ahead).
The most substantive disagreement we have with respect to race concerns the use of the n-word. A couple of years back, we did a mini-tour of some colleges where we publicly debated one another and then engaged in discussion with the audience. For a summary of our positions, see our
earlier blog entry
(and for video of one of the public debates, click
here
).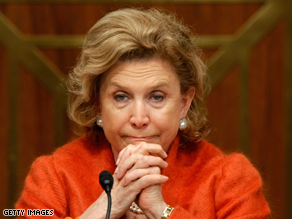 This disagreement surfaced again last month when New York member of Congress Carolyn Maloney (left) – who was then planning to run for the U.S. Senate seat in the 2010 Democratic primary against Kirsten Gillibrand –
was quoted in an interview
using the n-word. As always, the context is important; Maloney (who is White) was repeating what an African American said. Here's the quote:
"I got a call from someone from Puerto Rico, said (Gillibrand) went to Puerto Rico and came out for English-only (education). And he said, 'It was like saying the n-word to a Puerto Rican,'" Maloney said, using the full racial slur.
Still, she was forced to
make a public apology
, and she has since announced that she will not seek the Senate seat next year. Here are our respective takes on this situation.
*************************************************************
Stephen
: I don't feel comfortable saying definitively that someone's career ought to be derailed (and we don't expect that Maloney's will be – we only know that she won't be seeking higher office in the near future), but I do believe that folks who called on her to make a public apology were correct to do so. Of course, the entire situation was somewhat complicated because Rev. Al Sharpton, who predictably (and, in my opinion, appropriately) criticized the comments, is a Gillibrand supporter. Further, the context within which she made the comments were racial because it centered on English-only education. So there is a lot going on here.
My position, though, is that a White person should (almost) never utter the word (I used to say "never," but attendees at our public debates made some excellent points about, for instance, White actors in a play or film). That is not to say, of course, that White folks shouldn't talk about the word – I am (hopefully clearly) very much in favor of that. And while it may seem ridiculous to say "the n-word" when everyone knows what it is (it's like spelling "s-e-x" in front of a 16-year-old, right?), the symbolism of avoiding the word is an important indication of the word's power.
In short, Maloney could have (should have) repeated the story and said "the n-word" instead of. . . well, the n-word.
Charlton
: Yes, perhaps –- politically -- Maloney should have said, "the n-word." But then again, the "n-word" is not quite the same thing as saying "nigger," which, I guess is kind of the point on both sides of the issue. I won't say Maloney was "right" to use the term, but I do think that given the context, it should have been permissible and not have become the albatross it became for her political aspirations. To describe the level of the term's offensiveness, using the "n-word" doesn't carry the full effect -– the offensive effect it should have had when the person Maloney was quoting used it.
Plain and simple -– whether you're Black or White –- when we throw all context out the window and say "you just can't say the word," we've reduced the conflict to nothing more than a political game over the limits of censorship. We can pretend we're all children and use the n-word euphemism to show we know the power the word has and seek to shield everyone from that reality. Or, we can say that part of continually recognizing and reminding folks of the word's power is making it permissible to utter the word – especially if the result is a productive conversation about the complexities of the term's usage.
Stephen
: The censorship argument is a red herring. I am not advocating "thought police" or any formal ban on the word (as we saw in a number of places and
wrote about in this space
a couple of years back). I am arguing that White folks should be thoughtful about the power of the word and should illustrate that power symbolically by conspicuously and ceremoniously avoiding it. We are in agreement, I think, that Maloney should not be unduly punished as a result of saying it in this context, but it was quite appropriate for her to apologize.
The bigger problem from my perspective is that
her apology
did not push forward the dialogue in any meaningful way. From her statement:
I apologize for having repeated a word I find disgusting. It's no excuse but I was so caught up in relaying the story exactly as it was told to me that, in doing so, I repeated a word that should never be repeated.
First of all, I don't know that it is true that the word should "never be repeated." Not only does my colleague argue that it can be used by Whites, but there is an entirely different argument with respect to whether persons of color – particularly African Americans – can use the term in different contexts. Further, she does not explain
why
she should not use it in this or any other context. As it is, she leaves us with a position that Charlton is correct to indicate is tantamount to censorship.
It is not enough to simply say that it is a "bad" word that no one (or even just Whites) should never say. That isn't a sophisticated position at all. That's why my position is that Whites ought to make a conscious decision to talk about the word while not saying it so as to call attention to its hideous history and contemporary power.
Charlton
: That is precisely my point. Maloney does not explain why she should not use the word – or whether she should in some context or another – because this is what our racial censorship has taught us. You say the word – there's only one recourse: say "I'm sorry." That's all anyone wants to hear. That's all Rev. Sharpton wanted to hear. Few are really interested in a prolonged conversation about the term because doing so would necessarily require the freedom to use the term by all involved. It would also mean continuously risking the offense and confronting the emotions that would come along with it. That's harder to do – understandably so. But we have chosen the easier course: We just say that no one should say it under most circumstances so we will never have to confront what it has and continues to mean and whether it should always do so.
**************************************************
As always, we're very much interested in your thoughtful comments on the issue. Please feel free to leave them below.
(Also, just as a reminder, we do not "moderate" the comments for content at all; that step is simply added to eliminate the tremendous amount of spam we receive in the comments section of our blog when the filter is removed. We love thoughtful disagreement, and we even publish less-than-thoughtful disagreement.)
Labels: African Americans, black, Carolyn Maloney, n-word, Nigger, racism, Rev. Al Sharpton