Racism Fatigue
In 1998,
Susan Moeller
published
Compassion Fatigue: How the Media Sell Disease, Famine, War and Death
, in which she explains that media coverage of these types of stories contributes to the tendency of Americans to divert our attention from worldwide human suffering. Moeller helps us to understand that the ways issues are presented determines the degree to which folks will continue to be responsive. As we work our way through the administration of the nation's first Black president, it is important to consider whether Americans are experiencing "racism fatigue."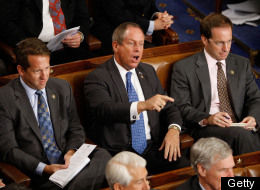 THIS WEEK, we wrote an
article for OpEdNews
wherein we explained the racial context for Congressman
Joe Wilson's outburst
during the president's health care address to a joint session of Congress Wednesday night. If you are interested, we encourage you to
jump over there
and give it a read. Essentially, we explained that the persistent characterization of Barack Obama as "other" by his opponents has established a context within which behavioral norms can be dismissed. Just this week, it meant that Joe Wilson could hurl an insult during a formal address and that some
parents could pull their kids
out of school rather than have them listen to the president give a speech (the contents of which were released in advance) about working hard and getting an education.
The response to our article surprised us a bit. Some folks were frustrated that we stopped short of calling Wilson's actions racially motivated (TWIR readers know that we almost never speculate on intent) while others chastised us for invoking race at all. There was a lot of Internet chatter about Wilson's past behavior regarding race since his outburst, and that may be of interest to South Carolina voters or others who are determined to expose him as a bigot (we have chosen to not even link to that material here). We read that material and appreciate its value; it is just not central to what we think matters most.
In fact, we believe that the "gotcha" practice of trying to out bigots can be counterproductive because it tacitly reinforces the notion that "racism" is primarily about individual hatred of persons of color. While those who are bold enough to be open about their resentment of persons of color ought to be recognized as having conscious attitudes that set them apart from most of the American public, overt bigotry represents only a fraction of racial inequality in 21st century America. We ought not lose sight of bigoted occurrences, but we think it is most important to draw attention to the racial underpinnings in contemporary political discourse because that represents a more widespread and powerful current that is carrying along our centuries-old tradition of White supremacy.
But it can be quite tiring, indeed, for racially progressive folks, the millions who are genuinely trying to understand the roots of discrimination and White privilege. The more we folks who do this sort of work write, speak and advance sophisticated ideas about systemic racism, the more (and louder) defenders of the status quo put forth overly simplistic snippets that are easier to understand and, thus, believe.
Such reactions were on display this weekend as
millions of (overwhelmingly) White folks gathered at rallies
organized by political groups who oppose Barack Obama and/or his policy preferences. Joe Wilson was heralded as a hero at many of these gatherings as many noted that his outrage Wednesday night was justified because they, too, believe Obama is a liar. Further, the outburst was related to and consistent with their desire to keep "aliens" from having access to health care. They see no racism in labeling millions of Brown folks as "other" and subsequently (and angrily) preventing them from having access to what many believe to be a fundamental human right. Despite the fact that they have chosen to speak out so forcefully against government spending during the administration of the first Black president when two of their heroes -- Ronald Reagan and George W. Bush -- greatly contributed to the deficit during their presidencies, they see no racism in their position. Despite the fact that similar groups of Obama's opponents just a year ago brought stuffed monkeys, claimed that Obama was a Muslim and an Arab (which suggests that he is both a terrorist and a liar), yelled that he should go back to Africa, and engaged in myriad other bigoted behaviors, they see no racism in their position.
To the contrary, these folks, when asked about such underpinnings, become quite agitated, noting that the minuscule number of persons of color who agree with them is a coincidence, that they have a Black friend (seriously, this is often used as an alibi against any suggestion of internalized racism), and that it is Obama's supporters who are the real "racists." They are fatigued -- tired of always being called "racists."
This is also where the fatigue begins to surface on the part of advocates for racial justice. In the context of such anger and hostility, is it possible to explain to someone that "racism" is a systemic concept tied to White supremacy, not simply individual-level prejudice? Can one help a sign-waving, screaming, scared middle class White person to understand, in that moment, that 98% of their brain's activity takes place outside their consciousness, so ruling out racism as a factor is impossible? When fear and hostility are in full bloom, it is neither the time nor place to try to explain the complexities of human thought and behavior broadly, let alone neuroscience.
But where is the space for such discussion? All the world has become a tea party or town hall meeting for those who oppose President Obama.
That's why Joe Wilson screamed out. When
Congressman Wilson apologized
, he said, "I let my emotions get the best of me." At the end of this summer of anger, we are seeing the manifestation of a rhetorical climate that has painted Barack Obama as an "alien" himself. "I want my country back!" is heard at many of these gatherings. One wonders, from whom? From the "other" who has taken it, of course. From the man who does not look like other presidents looked. From the man who doesn't look like "us," like "America." From the man who is not really even American (so say "the birthers") and, therefore, is not even legitimately the president. From the man who will take care of people "like him" and seek retribution and/or reparations for slavery against Whites. From the Marxist/communist/socialist/fascist/terrorist man who used his Hitler-like oratory skills to fool Americans into electing him.
It is exhausting in its intensity and, quite frankly, its effectiveness.
White conservatives are genuinely tired, and while many of their criticisms of the president are not legitimate, we think that their fatigue is understandable. They are tired of being told that they are "racists" because they oppose a man who happens to be the nation's first Black president. They are tired of knowing, with all of their being, that they are not, in fact, "racist," even if they cannot always explain why they are so angry about this particular president. Most of them have worked for generations to use the appropriate term to describe Black Americans, moving from "colored" to "Black" to "African American" and now just resorting to just speaking the word more quietly than the rest of the sentence to avoid any perception of bigotry. They taught their children never to use the n-word, to give everyone an equal chance, irrespective of race or ethnicity, and they genuinely appreciate the diversity that has come to characterize their work spaces. For heaven's sake, some of these folks marched in the 1960s to end legalized segregation of schools and to bring about social justice in our laws! "What more," one can hear them shout, "are we supposed to do?! We have a Black president! That's not equal enough for you?! What more do 'you people' want!"
They're so damn tired.
But they are tired precisely because there is so much about racism that they do not understand. It is difficult for humans to understand that we cannot know what we do not know. It feels ("logically") that we are in control of our own brains. We are not. Perhaps the ultimate irony is that while we have made so much progress with respect to individual-level prejudice (even considering the backlash we are seeing now), we have much more work to do to help folks understand the complexity of systemic racism. It is very hard work -- not just to facilitate such discussion, but to engage in it. It is hurtful to realize that racism internalized from our culture is more powerful than explicit teachings to the contrary by our parents (or to our children). It is frustrating to think that we are on the right track, only to catch ourselves reaching for the door locks or feeling a tinge of fear or at least suspicion when a Black man approaches (this isn't just Whites, by the way). And it sure as hell is exhausting to worry about whether someone will call us "a racist" when we feel certain that our attitudes are not at all rooted in racism.
Racism fatigue is not new, but we are seeing a widespread outbreak in 2009.
Joe Wilson's emotions got the best of him. Indeed, much of the political psychology research has revealed the false dichotomy between emotion and reason that Enlightenment-era philosophers put forth (privileging the latter over the former, of course). It is unrealistic (and, we would argue, unwise) to ask folks to take emotion out of their political decision-making. After all, we tend to appreciate emotions that lead to outcomes that we embrace. (Progressives want folks to feel empathy, for instance, so that more socially just policies are adopted.) We find nothing wrong with the fact that Joe Wilson feels strong emotions about making preventative health care available to those who cannot afford it, even if our emotions on the subject are quite different from his.
Further, we find the tangential discussions surrounding his act to be distractions from the primary point (health care reform) and our point (the racial context for the outburst). That is, we do not particularly care whether the action was consistent with practices of the British House of Commons during Prime Minister's Questions or whether the president was actually lying. Those are fair items to consider in a broad discussion of the incident, but shouting insults has not been and is not the custom in the U.S. Congress -- whether the president is there or not -- even if the he was not telling the truth.
The folks at the rallies this weekend hold anti-reform attitudes that are similar to those held by folks who opposed civil rights reform a half century ago. White Southerners were tired of being told that they were "bad people" for expecting Blacks to live their lives separately from Whites. They were tired of uppity Blacks telling them anything, in fact. And they were tired of White Northerners talking about them like they were unenlightened bumpkins. They knew the truth, and they were tired of being told otherwise. They wanted their country back. The parallels to the current fight for civil rights (of which the extension of health care to all is but one part) are striking.
So how do we overcome racism fatigue? The first step, we propose, is to do our best to continue to be persistent about the effects of systemic racism but also continue to be diligent about explaining that pointing it out is not an insult. "Racist" is an adjective; it ought not be used as a noun because doin
g so drains it of its power. Here's why: First, calling someone "a racist" (noun) suggests that he or she is aware of his or her racist attitudes; that may or may not be the case. We can almost never prove intent because those who are intentionally bigoted know how to maintain plausible deniability. It is a no-win situation. Second, using the word as a noun permits defenders of the status quo to turn it around and use it to describe anti-White attitudes (see the sign from this weekend's rally in Washington, DC, above, for example), which rhetorically forces the concept into the neutral position. Anti-White prejudice exists (and, we believe, should be vigorously opposed), but is not nearly as dangerous as racist attitudes because it carries with it no systemic power. When "racism" becomes understood simply as any resentment based on skin color, the true power and effect of racism is lost. It is possible to identify racism without tying that concept to the intent of one or more individuals. When people stop feeling as if they are being called "racists," they may be more open to understanding the way racism really works.
Even so, it may be too late, or the context might be wrong. White folks of all political persuasions, by and large, want to believe that Barack Obama's election signaled the end of American racism -- Dr. King's dream realized. If we are in a "post-racial" period, it is not appropriate to bring race into the discussion; those who do are "playing the race card." So, in effect, there has been a cruel shift in culture such that those fighting for racial justice are accused of actually perpetuating injustice. Who wins in such a circumstance? Defenders of the status quo, of course, because no further progress can be made.
The problem, though, with arguing that this may not the right time to be pushing harder is that White folks are not the only ones with racism fatigue -- those who have been on the receiving end of American racism for generations are quite tired, too, and have been for some time. We have to push, and we have to push wisely, not just strategically. We have to raise consciousness and understanding about the complexities and destruction of systemic racism. We understand that conservative Whites are tired and that progressives are feeling tired, too, but now is not the time to rest. The stakes remain high for those who are harmed by racism: all of us.
Labels: African Americans, Barack Obama, bigotry, black, Joe Wilson, racism, racism fatigue